http://blog.moviefone.com/2011/03/08/michael-fassbender-interview-jane-eyre-x-men-first-class/

By Andrew Scott (Subscribe to Andrew Scott's posts)
Posted Mar 8th 2011 12:00PM

Michael Fassbender is on the verge of a breakout year.

After starring in such movies as 'Hunger,' based on the 1981 hunger strike at Maze prison, and Quentin Tarantino's Oscar-winning 'Inglourious Basterds,' this year the German-born actor is finally stepping into leading-man territory in America -- first, with 'Jane Eyre,' in which he plays the brooding Rochester.

Moviefone recently spoke to Fassbender about his role in the beautifully shot adaptation, co-starring 'Alice in Wonderland' beauty Mia Wasikowska. We also got the scoop on a number of his upcoming projects, including the much-anticipated 'X-Men: First Class,' as well as 'Shame,' which reunites him with 'Hunger' director Steve McQueen.

Moviefone: Were you forced to read 'Jane Eyre' in school?

Michael Fassbender: No, I wasn't, actually. That wasn't on our curriculum. But my sister and mother had always talked about it, and that was kind of the reason I wanted to do it, really. They were such big fans, and so I thought, "Well, let's see what they think of what I can do with Rochester."

How were you approached for the role?

I was approached awhile back. I can't remember exactly when, but they just said, "Are you interested in playing Rochester?" And I said yes. And then Cary [Joji Fukunaga] came on board and I was very excited by the prospects of [the movie], having seen 'Sin Nombre,' and what he did with that film and what a beautiful story that was. And then Mia was cast, and I watched her in 'In Treatment,' and I was like, "Oh, man. This could be really exciting. I just have to try to keep up with these two and we could have something really interesting."

How closely did you work with Mia on creating the chemistry between Jane and Rochester?

Well, I don't think chemistry is something that you can really create. I had so much respect for her as an actor that I just wanted to make sure that I was totally there for her in whatever ways I could help, just as a fellow actor. There was a big respect there, and I think that there was the same coming from her end. And it just worked. I don't really know how you develop something like that. We didn't hang out extensively to create that. I was doing a lot of homework on my own. We did do some rehearsal time, but she's just a real professional and really brilliant, so I just sort of had to, as I say, try to keep up with her and then all of that will be taken care of.

Rochester's a very serious guy. Did you find yourself trying to lighten the mood in between takes?

Yeah. I kind of tend to do that if the material is heavy -- not always, but sometimes to be a little bit caught unaware, or to be relaxed going into a scene is an interesting technique to try and endorse. But not all the time. Sometimes it's not good to be joking. [Laughs] But Mia and I had a good relationship, so we would have a bit of a laugh in between takes, or right up to action, really, because it distracts you. There's a lot of stuff [happening on set] ... Sometimes you just want to be distracted by something else.

Between 'Jane Eyre' and 'X-Men,' do you see 2011 as your breakout year in America?

I don't really think like that, to be honest. I just try to get the jobs, and then I try to do them properly, and then all the other stuff kind of happens one way another -- or not. I don't really think about that, to be honest.

Are you busier now than ever?

Definitely, yeah. Last year was my busiest year to date. I've been sort of going non-stop since February, really. I'm working at the moment with Steve [McQueen] in New York, and then I'm gonna go straight to Pinewood to start working on 'Prometheus,' so yeah. It's pretty full-on. I think after the summer, there's [another possible] job, and then after 'Alien' I think I'll take a little breather.

Since you're not from America, do you find that fame and celebrity affects you less?

To be honest with you, I don't have to deal with it. Maybe that will change after 'X-Men.' I do find all of that stuff -- it's weird, you know? But it's part and parcel of it. I don't like to think that it would change my usual routine of walking down to the coffee shop, or walking down the street or leading my life the way I want to live my life. But I haven't really experienced it, to be honest. Every now and again, somebody [will say to me], "Oh, you were in 'Inglourious Basterds!' ... And all of the time, it's just a brief exchange, and a nice one. But I don't have to deal with it the way that somebody like Brad Pitt would ... People don't really recognize me, I don't think, which is great.

This interview is happening on the heels of the 'X-Men: First Class' trailer, which showed us a little bit more of the plot. Could you give us any more teasers?

I'm afraid I can't, because I just don't really know what I'm allowed to say. All I'll say is, what's interesting [about the story] is the coming together of Charles and Erik, and watching both of them formulate their ideas, which we come to know in the series later, and how their friendship sort of fractures. That's a pretty interesting dynamic going on between the two characters. What we were sort of working towards is like Martin Luther King and Malcolm X. That's about all I can really tell you.

Did you actually have to audition for the role?

I did, yeah. Which I don't mind. Well, listen: I've always hated auditioning, to be honest [Laughs] ... They'd already cast James [McAvoy], and they wanted to see -- well, they wanted to see me. [Laughs] I think Matthew [Vaughn] had always wanted me for the part, but the studio wanted to make sure [because] they were investing so much ... Which is understandable.

Did you base your performance on Ian McKellen's? Or did you do your own thing?

I did my own thing. Ian McKellen, obviously, is Ian McKellen. [Laughs] He's brilliant. That's clear. But I wanted to do something fresh. The last two installments of the franchise weren't that successful with the fans ... So I wanted to just bring something totally fresh, and I just based everything on the source material, the comic book material, and drew everything from that. And there's an awful lot of it. It's pretty dense stuff, and some pretty life-changing stuff happens to him before we meet him in the film. So when we come to meet him in this film, it's sort of like this lone wolf on a mission.

You mentioned earlier that you're starring in Ridley Scott's 'Prometheus.' You must be over the moon.

Over the moon, yeah! Exactly. In space, literally! [Laughs] It's amazing. Jesus. I mean, I'm pinching myself on a regular basis, really. I couldn't have asked for a better position to be in. Ridley Scott is obviously a super-smart guy, and a great filmmaker. And it's a really, really good script. I was really surprised by the originality of it, and yet it still holds a lot of what the original films -- the story, rather; there's still a very strong link to that. But then it's a totally fresh outlook, as well. So, yeah. I'm really excited about it. It's a very intelligent script. I've got about a week between this film and that, so I've got to get my s$#! together. [Laughs]

You're working with Steve McQueen again on 'Shame.' How different has that experience been from 'Hunger'? I would imagine the Craft service table is a lot better this time around.

[Laughs] Well, I have to say that the Craft service in general is great. It's such a high quality here. [The film is] brilliant, man. I mean, Steve is closest to my heart and 'Hunger' is closest to my heart out of all the jobs that I've done, and to be working with him again is a pretty special experience. And Sean Bobbit behind the camera, these are really beautiful people and real artists, so I just feel really privileged to be working along side them. And it's tough, and it's intense and all of the things that you would imagine that were involved in 'Hunger' are involved in this. But it's a different story, and I can't tell you what the story is. [Laughs]
Last edited by greyeyegoddess on Tue Mar 08, 2011 4:55 pm; edited 1 time in total
_________________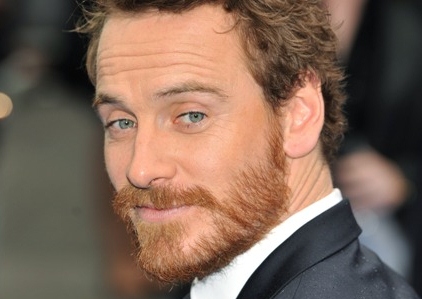 Twitter: https://twitter.com/Fassbenderfans
Blogspot: http://mfmultiply.blogspot.com/

Admin

Admin




Posts

: 27093


Join date

: 2009-09-20


Location

: California



Here's our interview on manliness, movies, and making a new version of "Jane Eyre."

http://www.ifc.com/news/2011/03/michael-fassbender-1.php?utm_source=twitterfeed&utm_medium=twitter

Video: http://bcove.me/lngw6r87

An actor's IMDb page can sometimes hide surprising information in plain sight. Take actor Michael Fassbender's. It's not until you see his impressive list of credits laid out that you realize that he almost exclusively appears period pieces. In the last couple years, Fassbender's played: a Roman centurion, a Spartan, a World War II British soldier, a hunger striking Irishman in 1981, and a Western outlaw. Later this year he'll be seen as two of the most provocative minds of the twentieth century: Carl Jung, in David Cronenberg's "A Dangerous Method" and Magneto in Matthew Vaughn's "X-Men: First Class." And now you can see him as Mr. Rochester in the new adaptation of "Jane Eyre."

Having realized just how much Fassbender seems to prefer playing the past to the present onscreen, I put the question of why to the actor during our recent video interview. And he provided the sort of response I expected, about picking projects less for their time period than for the quality of the script and the daring of their directors. That said, i have my own theory: Fassbender, with chiseled features and simple, unfussy handsomeness, represents our modern ideal of what masculinity used to be, before it was screwed up by dorks like me. Put it this way: At age 33, Fassbender and I could have gone to the same high school at the same time, if only he was raised in New Jersey (and I'm sure he's really upset about, too). We're almost the same age. But I -- and most of my generation -- still look like boys. Fassbender looks like a man.
_________________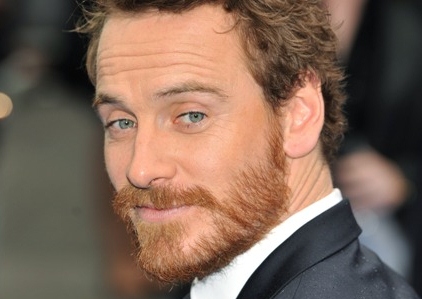 Twitter: https://twitter.com/Fassbenderfans
Blogspot: http://mfmultiply.blogspot.com/

Admin

Admin




Posts

: 27093


Join date

: 2009-09-20


Location

: California



---
Permissions in this forum:
You
cannot
reply to topics in this forum