http://herocomplex.latimes.com/2011/04/08/prometheus-michael-fassbender-on-ridley-scotts-breathtaking-project/?dlvrit=63378
April 08, 2011 | 6:46 p.m.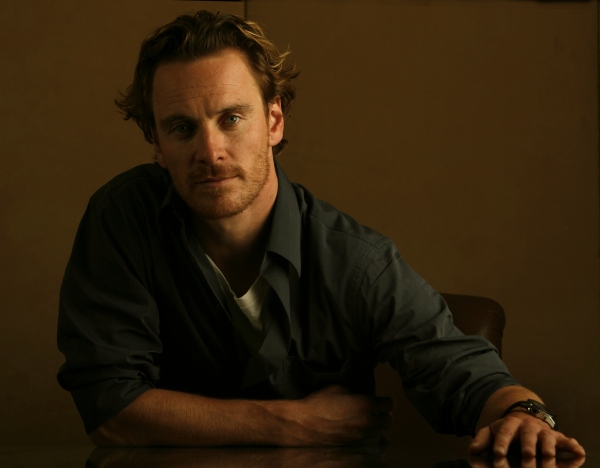 Michael Fassbender (Lawrence K. Ho / Los Angeles Times)
Michael Fassbender is just three weeks into the filming of Ridley Scott's "Prometheus" but the star says the experience is a dazzling one already.
"I walk on the set and I feel like I'm walking on a spaceship," Fassbender said. "It's breathtaking. All the various panels and screens and it's just dealing with a top-notch art department and carpenters and the riggers and everything that goes into putting that together. It's just, well, breathtaking, all of it."
The June 2012 release, which also stars Charlize Theron, was originally conceived as a prequel to Scott's 1979 classic "Alien" but veered off in other directions to become a stand-alone project (or, perhaps, is still a prequel and is simple being disguised to preserve some mystery). Fassbender wasn't at liberty to say too much about the film but I asked him if the character he's portraying has been especially elusive or if the contours are made clear by the script. "I feel I've got it at my fingertips, it's there but challenging and, you know, I'm excited. I've got a few ideas that I'm running with and I think I've got a grasp on it but it's always something that, organically, moving on its own course. I'm having a lot of fun with it. There's a lot of interesting quirks and niches to him and I'm having a lot of fun exploring it."
Even though it's still in the early days on the set, Fassbender said interacting with Scott has been a career moment for him. "It's great. He's just so precise and fun and mischievous and just full of interesting and quirky ideas for the character. They come to you in passing but then he lets you run with it and there's a lot of freedom there. I'm really just enjoying it and everything in general, the whole crew is so veteran and talented from all departments down, the camera, wardrobe, makeup, props, the works — you've got the cream of the crop and it's an honor just to be allowed to be part of it."
"Prometheus" will arrive 30 years to the month after Scott's "Blade Runner" and, shockingly, it will be the director's first sci-fi film since that classic starring Harrison Ford, Sean Young and Rutger Hauer. Fassbender, who will be in theaters in a big way this summer in the role of the young Magneto in Fox's "X-Men: First Class," said "Blade Runner" holds a special place in his heart as a film fan.
"It's my favorite movie. I just love that movie. And really I love all the different versions, I just don't care, I love that world and whatever you want to take from it you can take from it, nothing is fore-set in any way. I love that it's a very feasible futuristic place, and again that quality that you're in a thriller but you don't know it. There's always something at play and everyone has an agenda but none of it is really openly expressed."
– Geoff Boucher
_________________
Twitter:
https://twitter.com/Fassbenderfans
Blogspot:
http://mfmultiply.blogspot.com/

Admin

Admin




Posts

: 27093


Join date

: 2009-09-20


Location

: California



http://www.alienprequelnews.com/2011/04/prometheus-is-shooting-one-page-of.html
Friday, 29 April 2011
Prometheus is shooting one page of script a day
Swedish newspaper Expressen has posted another article about Prometheus.
While most of Expressen's article quotes many of the Michael Fassbender and Noomi Rapace interviews we've already heard in the past, it does add a couple of new interesting facts.
Expressen asked Noomi Rapace if Prometheus will have the same shock value as Ridley Scott's first sci-fi, Alien:
"Yes, in a way. What I like about the Alien movies is that they take place in space where everything is strange, but at the same time the main characters are very human and down to earth. It's what Ridley created and it's the same thing here. I think that we'll finally get to see that again in this movie."
Expressen also managed to have a quick chat with Michael Fassbender in the middle of his hectic schedule at Pinewood Studios. They asked him what the difference is between working on Prometheus and his previous projects:
"The biggest difference is how much time you get to make every scene absolutely right. I recently played in a new Steve McQueen movie ("Shame"), and the whole shoot took five weeks. Prometheus is going to take four months. In the McQueen movie we shot 20 pages of the script a day. In Prometheus we're shooting just one page a day."
When asked about his first day on the Prometheus set, Fassbender says:
"One of the biggest things you notice is how many people there are all over the place on set. There are so many people! But the movie is costing about $150 million. The McQueen movie cost $5 million."
(Source: Expressen (in Swedish, and please excuse their use of images from Alien vs Predator as illustrations...)
Posted by Christian Fowler at 09:29
_________________
Twitter:
https://twitter.com/Fassbenderfans
Blogspot:
http://mfmultiply.blogspot.com/

Admin

Admin




Posts

: 27093


Join date

: 2009-09-20


Location

: California





Similar topics
---
Permissions in this forum:
You
cannot
reply to topics in this forum