http://www.defendingbigd.com/sxsw-2014/2014/3/11/5495992/sxsw-14-review-frank-michael-fassbender


SXSW 14 Review: 'Frank,' a quirky, hilarious comedy about mental illness and the nature of art

By Brandon Worley @brandonworley on Mar 11 2014, 10:52a 3
Magnolia Pictures

The most meta film of SXSW provides an incredible portrait of a band defined by mental illness, insecurity and unwavering artistic drive.
Tweet (11) Share (5) Share 3 Comments

The concept of exploring the nature what constitutes "art" and what comes when a band attempts to find an audience and essentially sells out in the pursuit of fame, and what that pressure can do to a group of individual artists, is certainly nothing new when it comes to film. Lenny Abrahamson's Frank, written by Jon Ronson and Peter Straughan, takes this conceit and turns it on it's head -- almost literally -- in an exploration about the nature of mental illness and the lengths we go to in order to hide our own insecurities and inhibitions.

Frank follows the misadventures of the indie band Soronprfbs and told through the eyes and ears of Jon (Domhnall Gleeson) , an aspiring songwriter and keyboardist whose grand ambition is miles ahead of any actual talent he possesses. When he comes across the band's keyboardist attempting to drown himself in the ocean; Jon mentions he can play keyboards, and suddenly he's whisked away to an isolated cabin to spend the next year recording the band's first album.

At the head of the band is Frank, an incredibly charismatic and talented musician whose musical taste ranges far outside the mainstream; the band spends months perfecting the sounds of handmade instruments while also recording the sounds of a boot splashing in the mud. The fake head that Frank wears never comes off and the only person concerned with what is underneath is Jon, who unknowingly becomes the villain of the story by the end of the film.

There's a point near the beginning of Frank where Don, the band's manager (Scoot McNairy) tells new keyboardist Jon that when it comes to the giant, fake papier-mâché head worn by the eponymous character, "You just have to go with it." It's a great way to describe the film itself, which is full of quirky hipster personalities and characters, including a drummer and guitarist who spend most of the movie scowling at Jon. The music itself is raucous and wholly unintelligible at times, despite Jon's attempts to turn their ear towards more "mainstream" fare.

Maggie Gyllenhall adds another wacky character to her filmography with Clara, a dark and brooding keyboardist who seems perfectly content with playing to near-empty bars in the rural Texas towns rather than actually becoming famous. She hates Jon from the start and senses that in the end he will be the band's undoing, and provides the foundation that keeps Frank centered on his music rather than the madness that makes him keep that fake head on his shoulders.

The film is full of great performances yet it is Michael Fassbender as Frank who truly shines in a role that keeps his well-known mug off screen and hidden behind the fake head. The movie treats Frank with incredible empathy, and Fassbender brings Frank to life through an incredible feat of physical acting that gives personality to an expressionless mask. Fassbender provides the heart and soul of the film, while also delivering an incredible vocal and musical performance that will have many putting his name at the top of the list should Hollywood decide to make another Jim Morrison biopic.

Director Lenny Abrahamson does a magnificent job of balancing the incredible meta nature of the film (which has scenes at SXSW in Austin) and a deeper exploration of the nature of mental illness and how art can provide a way to work past it. Keyboardist Jon, who grew up in a quiet suburb in England and worked in a cubicle, laments several times throughout about the lack of trauma in his life that obviously provides the inspiration for those around him. Several bandmembers, including Frank and the band's manager, spent time in their previous life in mental institutions and there's an undercurrent theme of suicide that runs throughout the film as well.

This isn't a movie for everyone; the narration is told through onscreen graphics of Jon's tweets and his Tumblr blog kept throughout the film. The music in un-listenable at times -- which is the point -- yet also showcases the underlying genius that drives these artists forward. The final third of the movie takes a wild turn that may lose the audience for a bit, yet comes full circle with a hauntingly beautiful musical number that ends the film on an incredible high.

In the end, Frank is a film that will grab you if for no other reason that a masterful performance from Michael Fassbender who provides an astounding and uplifting portrait of a man haunted by his own mental illness yet freed from those confines through the power of his own musical genius.
9/10

_________________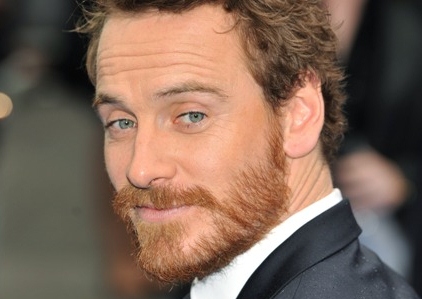 Twitter: https://twitter.com/Fassbenderfans
Blogspot: http://mfmultiply.blogspot.com/

Admin

Admin




Posts

: 27093


Join date

: 2009-09-20


Location

: California



http://blogs.indiewire.com/thompsononhollywood/frank-review-sxsw-michael-fassbender-lenny-abrahamson

SXSW Review: 'Frank,' Starring Michael Fassbender Wearing a Giant Fake Head, Totally Rocks
Reviews
by Beth Hanna
March 11, 2014 12:53 PM

Michael Fassbender and Domhnall Gleeson in 'Frank'

In Lenny Abrahamson's lovely film 'Frank,' Jon (Domhnall Gleeson) is a would-be musician who works an office job by day. It's possible that he doesn't have that much talent.

He struggles with trite lyrics in his head and with equally trite tunes on his keyboard. One day he happens to be on the beach at the right moment ("right" being relative, mind you) when the keyboardist for an eccentric pop band is attempting to drown himself. Thus Jon is invited to become the new keyboardist. He heads up to a bucolic Irish cottage to help record a new album with the band, which includes Don (Scoot McNairy), Clara (Maggie Gyllenhaal) and the mysterious if affable Frank (Michael Fassbender), who wears a gigantic, smiley helmet-mask over his face and apparently never takes it off.

What seems like the opportunity of a lifetime turns out to be much different than that, as Jon discovers that one or more members in the band may have legitimate problems. This is where Abrahamson's film pushes beyond the typical band-movie tropes and becomes a moving portrait of artistic passion on the verge of madness and complete dysfunctionality. It's also very funny, sometimes in a light-hearted way, and often in a darker way.

As Jon slowly realizes his bandmates are bonkers, he's also busily at work attempting to transition them from obscurity to internet fame. He tweets about their progress on the album (his Twitter followers slowing going up), he posts videos on YouTube, and eventually nabs an invite for them to play at -- dun da DUN -- the South by Southwest Festival.

What I found fascinating is the connection Abrahamson draws between our internet age of audience engagement and the means by which bands, films, whatever attempt to draw attention and a fanbase. We live in a highly distracted culture that often necessitates gimmicks and stunts to attract followers, page hits, video views, what have you. Frank's gigantic helmet would indeed seem like a stunt, as do a number of other things that play out in the film. But is it? Or is it the elephant in the room suggesting something much more concerning going on?

Now, about Frank. Abrahamson has done something quite brilliant with the casting here, akin to Spike Jonze using Scarlett Johansson's voice in "Her." The audience knows that Frank, underneath his helmet, looks like Michael Fassbender. (But, importantly, the characters in the film don't.) Thus we can't help but envision Fassbender's handsome face, and everything we know about him as an actor, as we watch this strange character with a balloon head jump and jive about. It cleverly sets up certain expectations about Frank that Abrahamson is then able to completely upend. It also sets up suspense -- will we ever get to see Fassbender in the film, even though we know plenty well what he looks like?

This, in many ways, is what "Frank" is about. The cult of coolness surrounding someone can take away from truly understanding them. What seems like posturing may in fact be a cry for help, a troubled soul, a loving person in need of a family who gets him.

"Frank" screens at SXSW on March 12 and 13. It has an upcoming stateside release from Magnolia Pictures (date TBA).

_________________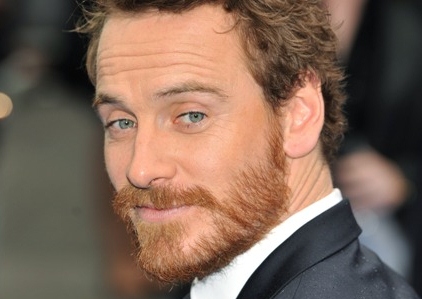 Twitter: https://twitter.com/Fassbenderfans
Blogspot: http://mfmultiply.blogspot.com/

Admin

Admin




Posts

: 27093


Join date

: 2009-09-20


Location

: California



http://www.irishtimes.com/culture/film/film-review-frank-1.1788325


Film review: Frank
Lenny Abrahamson's superby eccentric movie about a group of supremely eccentric musicians reveals some powerful truths about art and the disordered mind

Donald Clarke

Film Title: Frank

Director: Leonard Abrahamson

Starring: Domhnall Gleeson, Maggie Gyllenhaal, Scoot McNairy, Michael Fassbender, Francois Civil, Carla Azar

Genre: Comedy

Running Time: 95 min

Fri, May 9, 2014, 00:00

First published: Fri, May 9, 2014, 00:00



The latest film from Lenny Abrahamson, director of Adam & Paul and What Richard Did, is certainly promiscuous in its creative weirdness. As every second billboard and every other blog should have made clear, the film stars Michael Fassbender as an eccentric musician who lives life within a fake ellipsoidal head.

Very, very loosely inspired by the life of the late Chris Sievey, Mancunian creator of Frank Sidebottom, Frank does good work at dismantling the dangerous notion of the holy fool. Some fun is had reupholstering rock movie cliches (the song most definitely does not remain the same here). On a few occasions, full-on Pythonesque madness breaks out.

Some of this was to be expected (insofar as that skewed scenario allows any expectations). It does, however, come as a surprise to encounter a sort of unintended sideways swipe at The Great Gatsby.

Actor Michael Fassbender. Photograph: Matt Carr/Getty Images'If you talk to anyone on set they don't take me seriously at all – much to my dismay'

Domhnall Gleeson plays Jon, an ordinary English bloke with stifled musical ambitions who, one unlikely evening, happens upon a bizarre, unpronounceable band named Soronprfbs in his seaside town. When the group's keyboardist has a breakdown, the titular front-man asks Jon to join up.

"You play C, F and G?" one of his new colleagues asks. This will, apparently, do well enough. Jon presumes he'll just be doing locum at the odd gig. But, almost by accident, he finds himself transferred to rural Ireland for the recording of an angular masterwork.

The analogy with Gatsby is not entirely watertight. Jon proves more of an instigator than was Nick Carraway. Whereas the rest of the band are committed to producing the purest aural art (played on toothbrushes and Theremins, devised by Dadaist randomising games), Jon plots to spread the word via social media and eventually arranges a date at South by Southwest in Austin.

Still, like Nick, he offers the audience his eyes and ears as, increasingly outside his comfort zone, he goes among a fantastic community and tries to connect with its charismatic, unknowable figurehead. Both stories inevitably drift towards differently horrible deflations.

The clutter around Frank feels impressively authentic. Scoot McNairy (hassled manager) and Maggie Gyllenhaal (short-tempered Theremin impresario) have just the class of nervy edge you'd expect from people shut up in avant garde isolation during the north Atlantic rainy seasons.

Stephen Rennicks's music is quite brilliant: odder yet less mannered than most of the Brooklyn-loft sub-folk baloney recommended by this week's essential website. James Mather's camerawork finds markedly contrasting tones for the sat-upon English coastline, the damp Wicklow lakes and the glaring skies of central Texas.

The core of the film remains, however, the relationship between off-centre Frank and cast-adrift Jon. The two stars play off one another with the tense, odd syncopation of musicians in (to use a most appropriate comparison) Captain Beefheart's Magic Band.

Less committed to the outsider's life, Jon introduces dangerous amounts of reality that threaten to destabilise Frank's uneasy equilibrium. As the musician begins to crumble, Gleeson's touching performance – without dragging us through anything so wearingly hoary as an "emotional journey" – communicates Jon's eventual grasp of fundamental truths about art and the disordered mind.

The most impressive aspect of Frank is its seriousness about psychological illness. Though Fassbender's Frank is often amusingly odd and engagingly ingenuous, he is never presented as a circus freak. A serious disturbance is always bubbling beneath the shiny carapace of that unavoidable head and, when it finally breaks through, the picture surges away from comedy to something beyond categorisation.

"The loneliest moment in someone's life is when they are watching their whole world fall apart, and all they can do is stare blankly." Wasn't that from The Great Gatsby?
_________________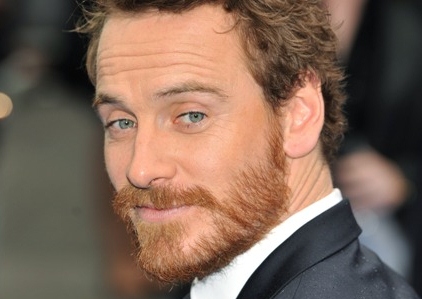 Twitter: https://twitter.com/Fassbenderfans
Blogspot: http://mfmultiply.blogspot.com/

Admin

Admin




Posts

: 27093


Join date

: 2009-09-20


Location

: California




Similar topics
---
Permissions in this forum:
You
cannot
reply to topics in this forum