http://www.comicbookmovie.com/fan_fic/news/?a=12812
I share my choices to play many of the super-powered members of Marvel's famous super-team, the Avengers. Enjoy!
Captain America: You're probably expecting my choice of actor for this role by now, and you're probably expecting the name Jensen Ackles in that spot. WROOONG!! (Superman Returns style!) I want you to hear my reasoning for the choice, instead of getting a pre-conceived notion of it before I explain myself. Now I know what you're all going to criticize me for: switching actors for this character after I've campaigned with Ackles as my choice so long and persistently. I honestly can't say I blame you. But, just because I have a new favorite for the role doesn't mean I don't like Ackles for the role. I still think he would do a great job, and is a close second to this new choice. However, after giving it some deep thought, and weighing the pros and cons of all my choices for Cap, I have to say that this actor rises over them all. One of my favorite actors, he has shown he can be a super bad-ass that is as intelligent as he is deadly (and who was also pretty much a super-soldier but without actual powers), a soldier on the front-lines of World War 2 (and what is Steve Rogers? Pretty much the exact same thing), but also a dramatic character with depth (he was nominated for an Oscar for this role too). If you want to know which movies I'm talking about (if you can't guess by the time I reveal the choice), just ask me in the comments. He can get in excellent shape too, so that wouldn't be a problem. He's got plenty of star-power to lend him credence for the role, and he wouldn't look out of his league next to the great RDJ, etc. The only draw-back I can see is his age, but he's not that old at 39, and looks early 30's at the oldest. Plus, maybe a bit of an experienced look is what Steve Rogers needs? He may not be the tallest actor in the real world, but in his movies he's looked at least 6'1" to me. And if they could make Jonathan Rys Davies look shorter than Viggo Mortensen, they can make this actor a couple inches taller, 5'10" isn't that bad a height. Plus, when compared to both Hemsworth and RDJ and the height relationships of these characters from the comics, his height fits in. Now, for the moment you've all been waiting for, my choice for Captain America, the Star-Spangled Avenger, the First Avenger, the Super-Sol-okay, I'll get on with it! CBM users, Matt Damon as Captain America!
Michael Fassbender as Lester (Bullseye)/Hawkeye. Another choice I've explained, Fassbender is an awesome actor, and is a joy to watch on screen. He was one of the best in 300, and was also great in Inglorious Basterds. He was f*cking almost out of his mind as Stelios in 300, watch that scene where he's describing a "beautiful death" and not get chills, I dare you! He wasn't only pretty crazy, he kicked some major, MAJOR Persian ass in 300, and was a super bad-ass. Take all that, and give him a target on his fore-head and, well, he IS Bullseye!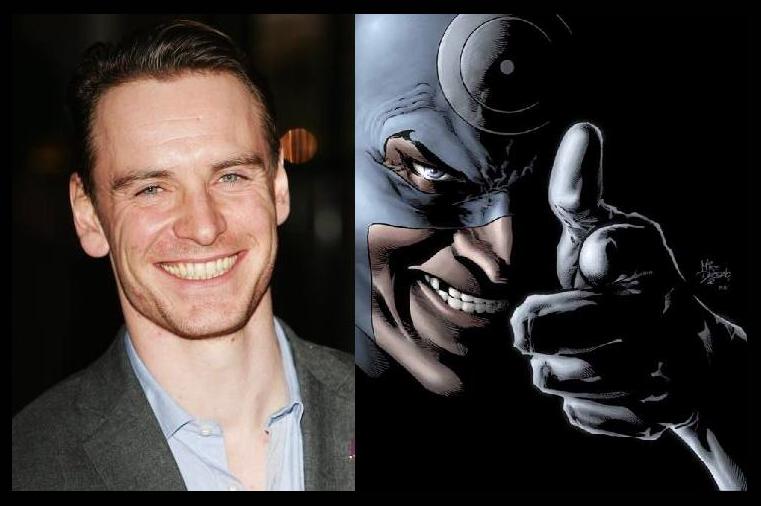 _________________
Twitter:
https://twitter.com/Fassbenderfans
Blogspot:
http://mfmultiply.blogspot.com/

Admin

Admin




Posts

: 27093


Join date

: 2009-09-20


Location

: California



http://www.comicbookmovie.com/news/?a=13248
InTylerWeTrust82 Casts Green Lantern And The Justice League
My choices to play various characters related to Hal Jordan and the other Green Lanterns, and also many members of DC's own super-team, the Justice League. Enjoy!
Michael Fassbender as Aquaman. Fassbender is a total bad ass, his performance as Stelios in 300 cemented that for me. He kicked loads of Persian ass and was one of my favorite Spartans in the whole movie. Aquaman is going to be a very tough character to sell to most people, seeing as he isn't viewed as one of the "coolest" characters in DC, but I know Fassbender would be able to make him awesome. He'd make Aquaman a bad ass, like he was in the Justice League animated series.

(Personally, I'd love to see Michael in the water)
_________________
Twitter:
https://twitter.com/Fassbenderfans
Blogspot:
http://mfmultiply.blogspot.com/

Admin

Admin




Posts

: 27093


Join date

: 2009-09-20


Location

: California



http://www.joblo.com/index.php?id=30368
Last Week: HAWKEYE
As evidenced by last week's column, we are getting a bit low on superheroes to cast these days, hence the aforementioned ridiculous reboot we've just finished discussing. But Hawkeye is an Avenger, and we will see him onscreen some day. The results?
1. Jeremy Renner (15%) 2. Aaron Eckhart (12%) 3. Michael Fassbender (9%)
I wasn't terribly surprised that Jeremy Renner remained your guys' number one choice for the role of Hawkeye, even though he denied such rumors last week. I still see him as Captain America though, no matter how much no one seems to be considering that these days.
Eckhart certainly has the superhero chin, but I'm more intrigued by your selection of Michael Fassbender, as someone said he had a "old timey swashbuckling look" that could fit the character. I would definitely agree with that, but now that you mention it, I could probably see him better as Green Arrow.
Alright, enough with the minor heroes, time to get to a major one. Shout out those SPIDER-MAN suggestions!
_________________
Twitter:
https://twitter.com/Fassbenderfans
Blogspot:
http://mfmultiply.blogspot.com/

Admin

Admin




Posts

: 27093


Join date

: 2009-09-20


Location

: California



http://www.comicbookmovie.com/fan_fic/news/?a=14817
InTylerWeTrust82 Casts The Invaders
Yes, I continue the trend of casting the Invaders, and, no doubt, I will not be the last. Here are my choices to play the members of the famed WWII team, featuring Captain America, and also a couple enemies thrown in for good measure. Enjoy!
Michael Fassbender as Union Jack. Yeah, I know, I know. I've been using Fassbender as a lot of characters. I cast him as Bullseye, and as Aquaman, and now as Union Jack. Sorry, but I just really like this choice a lot. Fassbender has that bad-ass attitude that's perfect for Union Jack, since he's one bad-ass mother trucker. Union Jack is a BAMF who will kick your ass at the drop of a dime, and you need an actor who can do that, among other things of course. Fassbender is a great actor, he was awesome in 300 as Stelios, who was basically the definition of a bad ass (I seem to be using that phrase a lot in this explanation) and killed Persians left and right. Fassbender was one of the good guys, but man, did I get a bit of an insane vibe from him at times. Particularly the scene where Stelios is describing what Spartans call "a beautiful death" and he starts laughing, and laughing. I was like "Whoa, I wouldn't want to mess with this guy," well, as if jumping about 10 feet in the air and chopping a guy's arm off wasn't enough to convince me of that. But enough about being bad ass, Fassbender is a damn good quality actor, shown by his excellent performance in the critically acclaimed Hunger. He received a lot of accolades for his quality performance in that film. Plus, Fassbender is at least European (German to be exact) but I think that, if he can handle a British accent, which I think he'd be able to do, since he's such a good actor, then he'd be perfect for Union Jack. Hopefully Union Jack is in the film (which I think there's a fairly decent chance of that happening) and we get to see him kicking major Nazi ass alongside Captain America.
_________________
Twitter:
https://twitter.com/Fassbenderfans
Blogspot:
http://mfmultiply.blogspot.com/

Admin

Admin




Posts

: 27093


Join date

: 2009-09-20


Location

: California



http://www.comicbookmovie.com/fansites/001/news/?a=15962
FAN CAST: HAPPY ST PATRICK'S DAY!!! Superhero Casting By LEEE777
Happy St Patrick's day! I have done a casting of Irish comic book characters for all to enjoy. there are as many as i could think of from various comic book companies, some you may have never heard of, some you probably have. I hope you have a great day today and don't get too drunk lol, come on in...
Saint Patrick's Day (Irish: Lá Fhéile Pádraig, Scottish Gaelic: Là Fhèill Pàdraig) is a yearly holiday celebrated on 17 March. It is named after Saint Patrick (circa AD 387–461), the most commonly recognized of the patron saints of Ireland. It began as a purely Christian holiday and became an official feast day in the early 1600s. However, it has gradually become more of a secular celebration of Ireland's culture.
It is a public holiday on the island of Ireland; including Northern Ireland and the Republic of Ireland, as well as in Newfoundland and Labrador and in Montserrat. It is also widely celebrated by the Irish diaspora, especially in places such as Great Britain, Canada, the United States, Argentina, Australia, New Zealand, and Montserrat, among others.
Little is known of Patrick's early life, though we know he was born in Roman Britain in the fifth century, into a wealthy Romano-British family. His father was a deacon in the Church, like his father before him. At the age of sixteen, he was kidnapped by Irish raiders and taken captive to Ireland as a slave.[1] It is believed he was held somewhere on the west coast of Ireland, possibly Mayo, but the exact location is unknown. According to his Confession, he was told by God in a dream to flee from captivity to the coast, where he would board a ship and return to Britain. Upon returning, he quickly joined the Church in Auxerre in Gaul and studied to be a priest.
In 432, he again says that he was called back to Ireland, though as a bishop, to save the Irish, and indeed he was successful at this, focusing on converting royalty and aristocracy as well as the poor. Irish folklore tells that one of his teaching methods included using the shamrock to explain the Holy Trinity (the Father, the Son, and the Holy Spirit) to the Irish people. After nearly thirty years of teaching and spreading "God's word" he died on 17 March, 461 AD, and was buried at Downpatrick, so tradition says. Although there were other more successful missions to Ireland from Rome, Patrick endured as the principal champion of Irish Christianity and is held in esteem in the Irish Church.
Many thanks to Wikipedia for the information, link below.
Michael Fassbender as Hitman:
TextHitman chronicles the exploits of Tommy Monaghan, an ex-Marine Gulf War veteran turned contract killer from the Cauldron, a lower-class Irish district of Gotham City. He first appears in The Demon Annual #2 (part of the "Bloodlines" crossover in the summer of 1993), when he is attacked and bitten by a Bloodlines parasite called Glonth. Instead of dying, the bite unexpectedly triggers his metagene and grants him x-ray vision and moderate telepathy. A side effect is that his corneas and irises are solid black, indistinguishable from his pupils; the sight managed to unnerve Batman when he first saw them. The inherited powers later come with limits, however, and Monaghan utilizes them selectively, both because of the difficulty of concentrating during an explosive firefight and the side effects of their extended use (which includes anything between a headache and a minor illness).
Fassbender was born in Heidelberg, Germany but Michael was raised in the town of Killarney, Co. Kerry, in south west Ireland. So thats Irish enough for me. Amazing actor and Hitman (Tommy Monaghan) hits you in the face for him. He would be awesome in this DC role and would bring grit and a lot of depth to the comic book character that would be needed. Check out many of his movies or stuff he's been on TV like "Hex" and see why!
_________________
Twitter:
https://twitter.com/Fassbenderfans
Blogspot:
http://mfmultiply.blogspot.com/

Admin

Admin




Posts

: 27093


Join date

: 2009-09-20


Location

: California



http://www.multiversitycomics.com/2010/05/multiversity-casting-couch-secret-six.html
The Multiversity Casting Couch - Secret Six
- Posted by Gilbert Short on Monday, May 10, 2010
One of my favorite books on the market, and easily my favorite team book, Gail Simone started something great with a villainous Secret Six. Based on an older idea, Gail took it and made it more interesting, with lesser known villains taking the reins for a mercenary-centric story that's ultimately violent and a LOT of fun to read. If you haven't read it, you really should. I'm STILL looking at you Matt.
Catman – Alan Tudyk
Instantly likable, affable almost to a fault, with enough badass in his resume justifying him in such a physically demanding role, Alan Tudyk (Firefly, Dollhouse, and V) would make a terrific Catman. Plus, I can't help but cast someone from a Joss Whedon show in here, can I?
Scandal Savage - Gina Torres
Scandal is a complex character. With her daddy issues (when your father is Vandal Savage/Cain, you're more than justified) , emotional distance and sometimes alcoholism, along with the Lamentation Blades, I can't think of anyone else besides Gina Torres(Firefly, I Think I Love My Wife, to play Scandal Savage. And I just cast TWO Whedon actors. Suck it.
Bane – Javier Bardem
Aside from the Venom for which he is most famous, Bane is an intelligent and well spoken Spaniard who deeply cares for his friends and colleagues. Since it might be too much to explain his history with Venom, a drug problem is a serviceable addition to give enough of a challenge to such a talented actor.
Ragdoll – Tilda Swinton
A remarkably twisted transgendered character, I can't think of anyone who can play a character as both male and female with delivery just to make their teammates uneasy for kicks. Since she's already played an androgynous character like Gabriel in Constantine, why not play the other end of that spectrum? Tilda Swinton is perfect.
Deadshot- Michael Fassbender
Best known for his roles in Inglourious Basterds, Michael Fassbender has enough screen charisma to bring a sociopath to life. And what actor wouldn't want to give that a shot?
Jeannette – Helena Bonham Carter
Haughty, classy, and just a little crazy (you'd have to be to play a dead person who is akin to the Silver Banshee) Helena Bonham Carter is perfect. This was also the last role cast, and now that I've thought of it, I can't believe it took this long!
Amanda Waller – CCH Pounder
On Smallville, I think they got it wrong. I don't like Pam Grier in the role. She's a nice enough talent, but she doesn't have the gravitas that CCH Pounder has (look at The Shield). Sure she's not morbidly obese, but there's no need for that.
"Lex Luthor Bailout" with Jon Hamm from Jon Hamm
Lex Luthor – Jon Hamm
Have you SEEN him on Funny or Die? He's great. Sure he's playing Lex for laughs, but if you've ever seen him on Mad Men, he can play serious well. And you need a villain to have fun and cause mischief. Lex fits the bill. It's a Longshot, but it'd be great to see him without Superman to fight.
Cheshire – Maggie Q
Maggie Q, a relative unknown has two important qualities, first, she's Asian (something I apparently have a problem with) and secondly, she has a past in action films as a villain. If you've seen Live Free or Die Hard, you saw she could play a martial arts master. I would bet she could manipulate our hero Catman.
_________________
Twitter:
https://twitter.com/Fassbenderfans
Blogspot:
http://mfmultiply.blogspot.com/

Admin

Admin




Posts

: 27093


Join date

: 2009-09-20


Location

: California



http://www.hitfix.com/blogs/2008-12-6-motion-captured/posts/jane-goldman-re-writing-x-men-first-class
Matthew Vaughn's 'Kick-Ass' co-writer is re-writing 'X-Men: First Class' for him
Posted on Monday, May 10, 2010 By Drew McWeeny
Jane Goldman re-writing 'X-Men: First Class'
Jane Goldman made international news with her dress at the "Kick-Ass" premiere, but it's her work on a word processor that makes her Matthew Vaughn's secret weapon.
Credit: Rex Features
The first hint that this might be happening came, as so many hints do these days, from Twitter.
Jonathan Ross, or @wossy, is the outspoken English TV host and comic book/movie supergeek who happens to be married to the charming and wicked-smart Jane Goldman. She was Matthew Vaughn's co-writer on both "Kick-Ass" and "Stardust," and based on my time watching the two of them together on-set, I'd say that she's a key collaborative part of Matthew Vaughn's process. The script that the two of them wrote for "The Debt," a Helen Mirren film that is still looking for a release date, is probably the strongest thing they've written together yet, and a clear indication that they're capable of far more than just post-modern comic book riffing.
About the same time that Matthew Vaughn was confirmed by Fox as the director of "X-Men: First Class," Ross posted something about how his wife's new job would keep her busy for the next ten weeks.
Hmmmm...
I tried to verify the news through the regular channels, but before I could even get a response, Ross did it himself. Today, he posted that his wife is away from home working on "X-Men 4." Okay, then. Unless we hear that they've broken the team up so Goldman can write a future X-Men film with Matthew's working on "First Class," I'm going to take this as confirmation that Vaughn is indeed customizing this movie as he works to get it ready for a mid-summer production start.
This is great news, frankly. No offense to anyone who has worked on the script already (Josh Schwartz was the first guy to take a crack at it, and then Jamie Moss took a crack at it, and "Thor" writers Zack Stentz and Ashley Edward Miller also had a turn), but for a director to have any hope at actually making a film like this coherent and personal in any way, they need to figure out a way to bring it all together. Matthew Vaughn is a filmmaker who likes to work with the same crew, the same cast, the same people around him. He and Jane share a sensibility, and they have a similar approach to outrageous material. I'm sure there's good material in all of the drafts that already exist, but I'm also sure that after something's been through that many hands, you start to see fingerprints on it, and it stops being something that feels like a cohesive whole. Having Goldman's voice in the mix, working with Vaughn in the two months or so between now and the start of the production, could be exactly what the film needs to work.
Now if only they'd hire Michael Fassbender as young Magneto...
"X-Men: First Class" is due in theaters June 3, 2011.
_________________
Twitter:
https://twitter.com/Fassbenderfans
Blogspot:
http://mfmultiply.blogspot.com/

Admin

Admin




Posts

: 27093


Join date

: 2009-09-20


Location

: California





Similar topics
---
Permissions in this forum:
You
cannot
reply to topics in this forum