http://marissabidilla.blogspot.com/2009/12/next-daniel-day-lewis.html
Thursday, December 17, 2009
The Next Daniel Day-Lewis?
In 1986, Daniel Day-Lewis shot to Americans' attention when two of his early films, A Room With a View and My Beautiful Launderette, opened here on the same day. Critics and moviegoers marveled at his skill in playing two very different characters, a priggish Edwardian gentleman and a gay working-class punk.
And now I think I've just experienced something similar to what people felt when they discovered Daniel Day-Lewis. This week I caught up with two films that came out earlier this year, Inglourious Basterds and Hunger, which both feature a 32-year-old German-Irish actor named Michael Fassbender. And together they impressively showcase his talent.
In Basterds, Fassbender has a supporting role as Lt. Archie Hicox, an Englishman who, in civilian life, was a film critic. Thanks to his knowledge of German language and cinema, Hicox is selected for the special mission of infiltrating a Nazi film premiere. Hicox's first scene is a very funny parody of every war movie that features stiff-upper-lip, dryly amused British officers who say things like "jolly good, old chap"--so it requires the actors to do a kind of stylized comedy. Fassbender speaks with a wonderful lazy, aristocratic drawl--Quentin Tarantino asked him to model his characterization on the young George Sanders.
Then comes an audacious Tarantino set-piece. Hicox has traveled to France, disguised himself as an SS officer, and gone to a basement tavern to meet with a contact. But he didn't anticipate that the tavern would be full of genuine Nazis--which sets up a half-hour-long scene revolving around the question "Will Hicox be found out?" The whole sequence is tense, involving, and smartly written. Hicox is fluent in German and an excellent bluffer, but the Nazis think his accent sounds suspicious...
Though I don't speak German, I tried listening for what was the matter with Hicox/Fassbender's pronunciation. And it sounded as though the lazy, drawling vowels of his English accent carried over to his German! If I heard right, then Fassbender has impressive accent skills.
There are a lot of memorable characters and performances in Inglourious Basterds (Brad Pitt, Christoph Waltz, Diane Kruger, Mélanie Laurent) but Fassbender holds his own. It's analogous to Day-Lewis' work in A Room With a View--a good supporting role that shows he can play an upper-class character in a period film, be funny, and stand out in an ensemble cast.
Fassbender's work in Hunger, meanwhile, shows that he can do raw, serious, intensely Method acting--the kind of thing that people associate with, yep, Daniel Day-Lewis. The movie is about the 1981 hunger strike in a Belfast prison among imprisoned IRA fighters, led by Bobby Sands (Fassbender). We first see Sands being dragged from his cell and forcibly given a haircut and hose-down. He lashes out at the guards, kicking and slamming into them--like an animal trying to avoid the slaughterhouse. None of Lt. Hicox's suave manners here.
The first part of Hunger is a grim, nearly wordless evocation of prison life. But then there's a long scene where Sands tells his priest that he intends to lead the hunger strike. If you thought the long conversations in Inglourious Basterds were bold, this one is even bolder: it has barely any cuts! There's a 16.5-minute-long take of Sands and the priest arguing as they face each other across a table, then about a 5-minute-long close-up of Sands, delivering a monologue about an incident in his youth.
We take for granted that theater actors will have the skills to perform long scenes, but it always surprises us when movie actors do. Hunger was scripted by playwright Enda Walsh, and this scene, particularly the monologue, is very theatrical--it sounds like an Irish play, not like a movie. As an additional hurdle, the 16-minute shot is backlit, meaning you can barely see the actors' faces. They must communicate everything with their voices, gestures and posture.
Fassbender plays Sands with an Irish accent that I found a little hard to understand at first (his natural accent is Irish too, but much lighter), and emphasizes his character's single-minded determination. Toward the end of the scene, though, I found myself wondering "If he's so determined, why does he need to talk to the priest?" The priest's objective in this scene is clear--to persuade Sands not to starve himself--but what does Sands want? Then I realized that Sands wants a blessing, but he's too proud to ask for it. And just then, the conversation ended; the priest gets up from the table, saying simply, "Goodbye Bobby, I don't think I'll be seeing you again." "No, I guess you won't," says Sands. The camera lingers on him for a few more beats and, for the first time, a hint of doubt and vulnerability enters his eyes. Heartbreaking.
The last part of Hunger returns to near-wordlessness--Sands has no more dialogue, but it's still riveting, because now the movie is about the effects of a two-month-long hunger strike on the human body, and Fassbender starved himself down to about 130 lbs for these scenes. Like I said: intense commitment to the role. I don't think actors should win prizes just for gaining or losing weight, which is why in this writeup I focused on Fassbender's acting in other scenes, but it's undeniably compelling and frightening. I mean, it can't have been pleasant for him to lose the weight, but he was under medical supervision and never at risk of death--yet watching Hunger, you're sure you're seeing a man on death's doorstep.
So, after this, I have vowed to keep Michael Fassbender on my radar screen. It doesn't hurt that he is a handsome guy with a great smile (that didn't hurt Daniel Day-Lewis, either) but he's also got an incredible range.
Incidentally, the Toronto Film Critics' Association just announced that Hunger and Basterds tied for their Best Picture prize. If you couldn't tell, I highly recommend both movies. Both are unconventionally paced and structured. Both are full of moments and images that will stay with me for a long time. Quentin Tarantino has a showman's instincts and Steve McQueen, the director of Hunger, has an artist's eye. Tarantino leaves you exhilarated and drunk on movie love; McQueen leaves you shaken, stunned, and wrung-out (the only movie I can possibly compare with Hunger is The Passion of Joan of Arc). So I guess these movies represent two opposing ideas of what cinema can do--or maybe just two different flavors of art.
Posted by Marissa at 6:52 PM
_________________
Twitter:
https://twitter.com/Fassbenderfans
Blogspot:
http://mfmultiply.blogspot.com/

Admin

Admin




Posts

: 27093


Join date

: 2009-09-20


Location

: California



http://www.soshollywood.com.br/plummer-fassbender/
Desde o dia em que assisti Bastardos Inglórios ficou com uma impressão curiosa sobre a fisionomia de Michael Fassbender. Demorou um pouco para cair a ficha, afinal, a pessoa com quem ele se parece já não tem mais aquelas feições. Coisas do tempo. Comecei a vasculhar, mas claro, descobri sem querer: Christopher Plummer em A Noviça Rebelde!
Já que essa maldita onda de remakes não pára, se alguém for cometer o crime, pelo menos cometa com um ator idêntico ao patriarca dos Von Trapp.

Imagem gentilmente produzida pelo Morph! =D Valeu, Mó!
**************
Translation:
Since the day I saw Inglourious Basterds, I had a curious impression about look of Michael Fassbender. It took a little bit to sink in finally, the person with whom he seems no longer has those features. I began to search, I discovered accidentally: Christopher Plummber in The Sound of Music
Since that damn wave of remakes does not stop, if someone is committing the crime, at least make it with actor identical to the patriarch of the Von Trapp.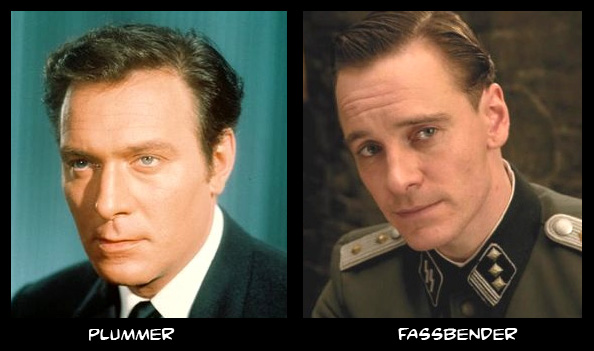 _________________
Twitter:
https://twitter.com/Fassbenderfans
Blogspot:
http://mfmultiply.blogspot.com/

Admin

Admin




Posts

: 27093


Join date

: 2009-09-20


Location

: California





Similar topics
---
Permissions in this forum:
You
cannot
reply to topics in this forum